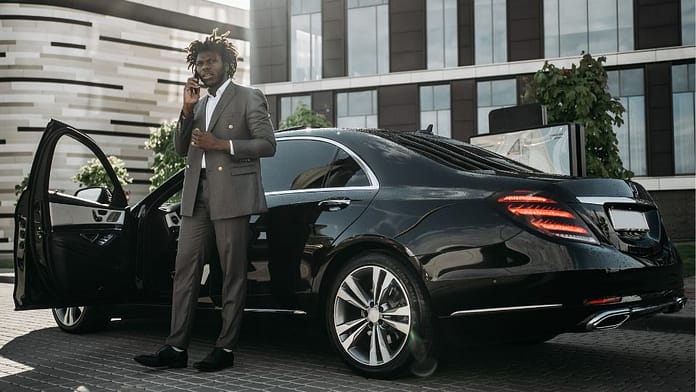 In a world where transportation choices abound, the concept of a "Black Car Service" stands out as a beacon of luxury and convenience. This elite form of transportation is synonymous with sophistication, reliability, and unparalleled comfort, making it a preferred choice for discerning travelers worldwide.
The allure of Black Car Service lies in the unique blend of opulence and practicality it offers. Passengers can revel in unmatched comfort, benefiting from plush leather seats, professional and reliable chauffeurs, and the assurance of safety and security throughout their journey. This level of comfort is a stark contrast to the often cramped and noisy experiences of taxis or rideshares, making it a popular choice for those seeking an elevated travel experience.
Choosing a reputable and reliable Black Car Service ensures that you receive all the benefits mentioned above. On the other hand, opting for an unscrupulous provider can lead to disappointment and inconvenience. To make the right choice, consider factors such as reputation, customer reviews, pricing, and the variety of vehicles they offer.
In this comprehensive guide, we'll delve deeper into the world of Black Car Services, helping you understand the different types of services available, how to book them, and the etiquette to follow. Whether you're a frequent traveler seeking comfort or someone who values style and sophistication in their transportation, this article will equip you with the knowledge needed to make informed decisions and elevate your travel experiences.
---
What is Black Car Service?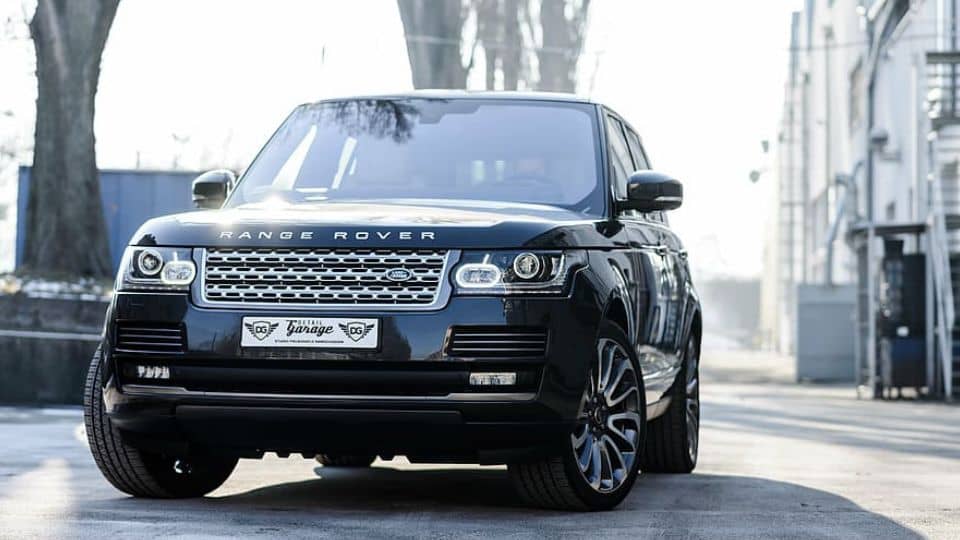 Related Articles
How to Install a Cosco Car Seat
What Is A Decal For A Car
Understanding Legal Cover Car Insurance
Why Does My Car Jerk When I Brake
Black Car Service is a premium transportation service that offers travelers a luxurious and professional alternative to regular taxi services or rideshares. This elite form of transportation is characterized by high-end vehicles, professionally trained chauffeurs, and a commitment to delivering exceptional customer experiences. Black Car Service is often associated with comfort, style, reliability, and a focus on catering to the specific needs and preferences of its passengers.
The origins of Black Car Service can be traced back to the early 20th century when private chauffeurs and elegant black automobiles were a symbol of prestige and status among the elite. Wealthy individuals and dignitaries often employed personal chauffeurs and traveled in black vehicles, signifying luxury and sophistication. Over time, this concept evolved into a professional transportation service that extends its benefits to a broader clientele.
---
Differences from Regular Taxi Services or Rideshares:
Black Car Service distinguishes itself from regular taxi services and rideshares in several key ways:
Black Car Service vehicles are typically high-end and meticulously maintained. They include premium sedans, SUVs, and sometimes even limousines, offering passengers a more comfortable and stylish ride compared to standard taxi or rideshare vehicles.
Black Car Service chauffeurs are extensively trained professionals who prioritize safety, courtesy, and punctuality. They offer a level of professionalism and service that sets them apart from many taxi or rideshare drivers.
Black Car Services are known for their reliability and timeliness. Passengers can count on their reserved black car to arrive promptly, even during peak travel times or in busy urban areas.
Black Car Services often allow passengers to customize their experience, such as selecting the type of vehicle, specifying preferences like temperature and music, and requesting additional amenities.
Black Car Service passengers enjoy a greater degree of privacy compared to shared taxi or rideshare rides, making it an attractive choice for business travelers or those seeking a more discreet travel experience.
---
Emphasis on Luxury and Professionalism:
Luxury and professionalism are core attributes of Black Car Service. The vehicles are immaculately maintained and designed to provide a comfortable and sophisticated ambiance.
Chauffeurs are dressed in professional attire and trained to provide top-notch service, ensuring passengers feel pampered and valued. This emphasis on luxury and professionalism creates an elevated travel experience that is particularly appealing to individuals seeking a premium and hassle-free transportation option.
---
Why Choose Black Car Service?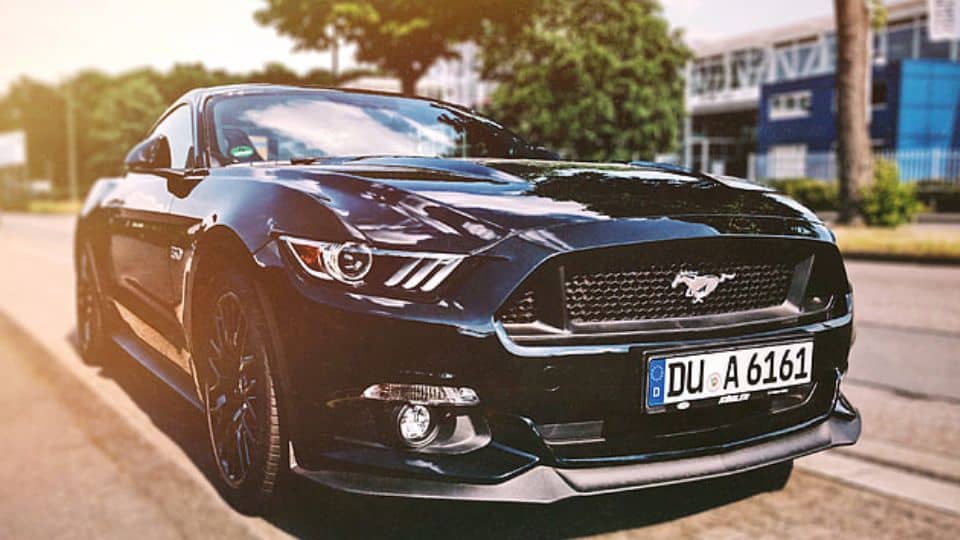 Choosing a Black Car Service over other transportation options offers a multitude of advantages that elevate your travel experience. Below, we'll delve into the compelling reasons why opting for a black car service is a wise decision:
1. Unmatched Comfort
Black Car Services are synonymous with luxury and comfort. The high-end vehicles used in these services boast spacious, plush interiors with leather seats, providing a level of comfort that exceeds that of regular taxis or rideshares. Whether you're traveling for business or pleasure, you can relax in style throughout your journey.
2. Reliability and Punctuality
One of the standout features of Black Car Services is their unwavering commitment to punctuality and reliability. Chauffeurs are highly professional and well-versed in local traffic patterns, ensuring they can navigate efficiently and get you to your destination on time, even during rush hours or adverse weather conditions.
3. Safety and Security
Safety is a paramount concern for Black Car Services. They prioritize passenger security through rigorous vetting processes for their chauffeurs, including background checks and stringent training programs. Additionally, the vehicles are regularly inspected and maintained, adhering to strict safety standards, offering you peace of mind throughout your journey.
4. Tailored to Your Needs
Black Car Services understand that every trip is unique. Tailor these services to meet your specific needs, whether you require airport transfers, corporate transportation, or transportation for a special event. The flexibility they offer ensures you receive a customized and hassle-free experience.
5. Privacy and Discretion
If privacy is essential to you, Black Car Services deliver. Unlike shared rides, where you might travel with strangers, a black car service offers a private and discreet environment. This feature is particularly appealing to business travelers or individuals who value their personal space.
6. Stress-Free Travel
Black Car Services take the stress out of traveling. With their exceptional professionalism and attention to detail, you can focus on your work, relax, or simply enjoy the journey. It's an excellent choice for individuals looking to make the most of their travel time.
---
Types of Black Car Services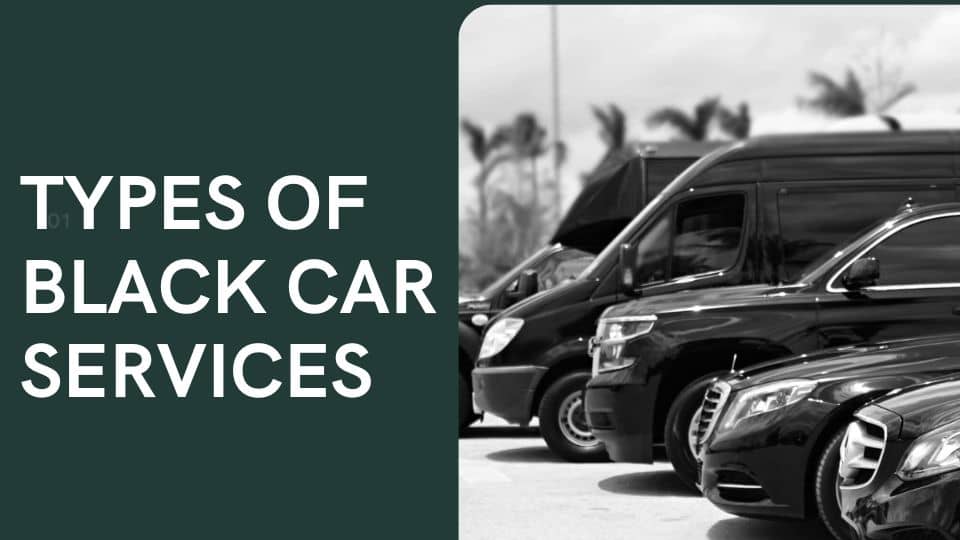 Black Car Services offer a diverse range of vehicles to cater to various passenger needs and occasions. The availability of different vehicle types ensures that passengers can select the most suitable option for their specific requirements. Here are some of the common types of vehicles you can expect from Black Car Services:
1. Sedans:
Sedans are a popular choice for individual travelers or small groups of up to three passengers. They are known for their elegance, comfort, and discreet appearance.
Sedans are ideal for business meetings, airport transfers, or city tours when traveling alone or with a few companions.
2. SUVs (Sport Utility Vehicles):
SUVs offer more space and versatility compared to sedans. They can comfortably accommodate a larger group of passengers and provide extra luggage capacity.
SUVs are perfect for family trips, group outings, or when you need to transport a substantial amount of luggage or equipment.
3. Limousines:
Limousines epitomize luxury and sophistication. They come equipped with premium amenities such as leather seating, entertainment systems, and minibars, making them a symbol of opulence.
Commonly chosen for special events like weddings, proms, anniversaries, and red-carpet occasions are limousines. They can also be used for corporate events and VIP transportation.
4. Luxury Vans and Minibuses:
These larger vehicles are suitable for groups of passengers who wish to travel together. They offer ample space, comfortable seating, and additional amenities.
Luxury vans and minibuses are ideal for corporate outings, group tours, family reunions, or transportation to conferences and conventions.
5. Executive Cars:
Executive cars represent the pinnacle of Black Car Services. They are often high-end models from luxury car manufacturers, equipped with top-of-the-line features and exceptional comfort.
Executive cars are typically reserved for VIP transportation, corporate executives, and individuals seeking the ultimate in comfort and style.
---
Additional Services Of Black Car Services
Beyond the variety of vehicles, Black Car Services offer a range of additional services to enhance the passenger experience. These services may include:
1. Airport Transfers:
Black Car Services are a popular choice for airport transfers, ensuring passengers arrive at the airport on time and in style. Chauffeurs monitor flight schedules to adjust pickup times accordingly, reducing stress for travelers.
2. Corporate Transportation:
Many businesses rely on Black Car Services for their corporate transportation needs. This includes airport transfers for executives, transportation to meetings and conferences, and the provision of professional chauffeurs.
3. Special Event Transportation:
Black Car Services specialize in providing transportation for special events like weddings, proms, galas, and parties. Limousines are a favored choice for such occasions, adding an element of grandeur to the event.
4. City Tours and Sightseeing:
Travelers often use Black Car Services for city tours and sightseeing. The chauffeurs are knowledgeable about local attractions, providing informative and enjoyable tours.
5. Hourly Charters:
Passengers can hire Black Car Services on an hourly basis, giving them the flexibility to attend multiple meetings, run errands, or explore a city at their own pace.
---
How to Book a Black Car Service: A Step-By-Step Guide
Booking a Black Car Service is a straightforward process, designed to provide convenience and reliability. Here are step-by-step instructions to guide you through the booking process:
Step#1: Research and Choose a Black Car Service Provider:
Start by researching and identifying reputable Black Car Service providers in your area or the location you plan to visit. Consider factors such as their reputation, customer reviews, fleet of vehicles, and the range of services they offer.
Step#2: Visit the Service Provider's Website or Use Their Mobile App:
Most Black Car Service providers have user-friendly websites and mobile apps that allow you to book a ride. You can access these platforms using your computer or mobile device.
Step#3: Select Your Pickup Location and Destination:
Enter the details of your trip, including your pickup location, destination, and any intermediate stops if needed. Specify the date and time for your ride.
Step#4: Choose Your Vehicle Type:
Depending on your preferences and the number of passengers, select the type of vehicle you require (e.g., sedan, SUV, limousine). Some providers also offer luxury or executive vehicle options.
Step#5: Provide Additional Details:
Some Black Car Service platforms allow you to add special requests or preferences. For instance, you can specify if you need child seats, indicate if you have oversized luggage, or request particular amenities.
Step#6: Review and Confirm Your Booking:
Review the details of your booking, including the pickup location, destination, vehicle type, and any additional requests. Ensure that all information is accurate. If everything looks good, proceed to confirm your booking.
Step#7: Receive Booking Confirmation:
After confirming your booking, you will typically receive a booking confirmation email or notification through the mobile app. This confirmation will include essential details such as your chauffeur's name, contact information, and vehicle details.
Step#8: Track Your Ride (if applicable):
Some Black Car Service apps allow you to track your chauffeur's location in real-time. This feature can provide peace of mind and help you anticipate the arrival time.
Step#9: Enjoy Your Ride:
On the scheduled date and time, your chauffeur will arrive at the designated pickup location. Simply relax and enjoy the comfort and convenience of your Black Car Service ride.
---
Role of Mobile Apps and Online Platforms:
Mobile apps and online platforms play a pivotal role in booking Black Car Services by simplifying the process and enhancing user experience. They offer the following advantages:
Mobile apps and websites allow you to book a black car service from the comfort of your home or on the go, eliminating the need to make phone calls or visit physical locations.
Many apps provide real-time tracking of your assigned chauffeur, so you can monitor their progress and know exactly when to expect them.
Most platforms offer secure online payment options, including credit card payments, making the transaction process seamless and cashless.
---
How Much Does Black Car Service Cost
Black Car Service pricing is typically structured to provide transparency and cater to various passenger needs. Understanding how this pricing works, comparing it to other transportation options, and knowing how to get the best value for your money is essential for making informed decisions.
How Pricing for Black Car Services Typically Works:
Base Fare: Black Car Services often have a base fare that covers the initial distance or time upon pickup. This fee varies depending on the service provider and location.
Per-Mile or Per-Kilometer Rate: After the base fare, the primary component of pricing is the per-mile or per-kilometer rate. This rate accounts for the distance traveled during your journey.
Per-Minute Rate: In addition to the distance, some providers may charge a per-minute rate for the time spent in the vehicle. This accounts for factors like traffic delays.
Additional Fees: Black Car Services may include additional fees for services such as airport pickups, tolls, waiting time (if you request the chauffeur to wait), and gratuity. These fees can vary by location and service provider.
Surge Pricing: Similar to rideshare services, some Black Car Service providers implement surge pricing during peak demand times or special events. Prices can temporarily increase during these periods.
Booking Fees: There may be a nominal booking fee to cover administrative costs associated with processing your reservation.
Additional Services: If you request additional services like child seats, special amenities, or multiple stops, these may incur extra charges.
Gratuity: While gratuity is sometimes included in the fare, it's customary to tip your chauffeur for exceptional service. Tip amounts typically range from 15% to 20% of the total fare.
---
Comparing the Cost of Black Car Services to Other Transportation Options:
When comparing the cost of Black Car Services to other transportation options like taxis or rideshares, it's important to consider the following factors:
Black Car Services often provide a higher level of comfort, professionalism, and luxury compared to standard taxis and rideshares. While they may be more expensive, passengers typically enjoy a superior experience.
Black Car Services are known for their punctuality and reliability. If you require dependable transportation for important meetings, flights, or events, the added cost may be justified.
And If privacy is a priority, Black Car Services offer a private and discreet travel experience, which may be worth the extra expense.
If you're traveling with a group, the cost per person for a Black Car Service can be competitive with or even more affordable than booking multiple taxis or rideshares.
---
Ensuring Safety and Security with Black Car Services
When it comes to Black Car Services, safety and security are paramount considerations. Reputable Black Car Services prioritize the well-being of their passengers through a combination of rigorous safety measures, well-trained drivers, and adherence to high standards. Here's a closer look at how safety is ensured, along with essential safety tips for passengers:
Safety Measures Employed by Reputable Black Car Services:
Black Car Services maintain their vehicles meticulously. Regular inspections and maintenance ensure that each vehicle is in excellent condition, reducing the risk of mechanical failures during journeys.
Chauffeurs employed by reputable Black Car Services undergo thorough training programs. These programs cover safe driving practices, passenger etiquette, and crisis management to ensure they can handle various situations professionally.
Drivers are subjected to extensive background checks, which include criminal record checks, driving history verification, and reference checks. This vetting process helps ensure that only trustworthy individuals become chauffeurs.
Black Car Services adhere to stringent safety standards set by relevant authorities. This includes vehicle safety inspections, insurance requirements, and compliance with local regulations.
Many Black Car Services utilize GPS tracking systems to monitor the location and speed of their vehicles in real time. This not only helps with route optimization but also enhances safety.
Chauffeurs are trained to respond effectively to emergencies, such as accidents or medical situations. They are equipped with knowledge and tools to provide assistance until professional help arrives.
---
Background Checks and Training of Drivers:
Reputable Black Car Services conduct comprehensive background checks on potential chauffeurs. This includes criminal background checks, verification of driving records, and reference checks. Only individuals with clean records and exceptional qualifications are selected.
Chauffeurs employed by Black Car Services undergo rigorous training programs that encompass various aspects of safe driving, customer service, and professionalism. They are taught defensive driving techniques and how to handle challenging situations on the road.
In addition to driving skills, chauffeurs receive customer service training to ensure passengers are treated with courtesy and respect. This includes helping passengers with luggage, providing information, and accommodating special requests.
---
Safety Tips for Passengers Using Black Car Services
Always verify the identity of your chauffeur and the vehicle before getting in. Many Black Car Services provide details such as the driver's name, photo, and the vehicle's license plate number in advance.
Inform a friend or family member about your ride, including the pickup and drop-off locations, the name of the Black Car Service, and the chauffeur's details. Share your real-time location if possible.
When booking a Black Car Service, use the official app or website of the service provider. Be cautious of third-party booking platforms to avoid potential scams.
Do not accept rides from individuals posing as Black Car Service drivers on the street. Legitimate Black Car Service pickups are arranged through reservations.
Always wear your seatbelt, even in the backseat. It's a simple yet effective way to enhance safety during your journey.
---
Top Black Car Service Providers: Premium Transportation
In the realm of luxury transportation and impeccable service, Black Car Service providers stand out as the epitome of sophistication and professionalism. These companies have redefined travel, offering passengers an elevated experience characterized by comfort, reliability, and style.
In this section, we'll introduce you to some of the top Black Car Service providers renowned for their commitment to excellence. From rideshare giants expanding into the luxury market to established companies with global reach, these providers offer a diverse range of options to meet your travel needs. Explore their offerings and discover the world of unparalleled luxury and convenience that Black Car Services have to offer.
1. Uber BLACK:
UberBLACK is Uber's premium ride service, offering passengers a more luxurious and upscale transportation experience compared to standard Uber options.
The UberBLACK operates in numerous major cities around the world, making it a widely accessible choice for upscale travel.
UberBLACK specializes in providing passengers with access to high-end vehicles such as luxury sedans and SUVs. These vehicles are driven by professional chauffeurs, ensuring a comfortable and stylish ride. It's a popular choice for business travelers and those seeking a more sophisticated rideshare experience within the Uber platform.
2. Lyft Lux:
Lyft Lux is Lyft's answer to premium transportation, providing passengers with high-quality vehicles and professional drivers.
The Lyft Lux is available in select cities in the United States and Canada, primarily focusing on major metropolitan areas.
Lyft Lux distinguishes itself by offering passengers a superior rideshare experience. Passengers can expect to be transported in stylish and well-maintained vehicles, driven by courteous and professional drivers. This service is tailored for travelers who want a more upscale and comfortable ridesharing option.
3. Sedan and Limousine Services:
Local and regional sedan and limousine services encompass a wide range of smaller companies that provide personalized Black Car Services tailored to specific regions.
These services are typically available in major cities and regions, offering convenience to local travelers.
Sedan and limousine services excel in delivering customized transportation solutions. They cater to various occasions, including airport transfers, corporate travel, weddings, proms, and other special events. These services often prioritize customer satisfaction and offer a diverse fleet of vehicles to meet specific preferences.
4. GroundLink:
GroundLink is a global Black Car Service provider known for its commitment to reliability and professionalism.
The GroundLink operates in over 110 countries, making it a versatile choice for international travelers seeking high-quality ground transportation.
GroundLink specializes in various types of ground transportation, including airport transfers, point-to-point rides, and hourly charters. It offers passengers a wide range of vehicle options, from sedans to SUVs, to suit their specific needs. GroundLink's global reach makes it a popular choice for travelers who require consistent service quality worldwide.
5. ExecuCar:
ExecuCar is a subsidiary of SuperShuttle, offering premium Black Car Services with an emphasis on comfort and convenience.
The ExecuCar operates in major cities across the United States, with a particular focus on airport transportation.
ExecuCar specializes in airport transfers, ensuring passengers experience a seamless journey to and from the airport. They prioritize professional drivers and well-appointed vehicles to provide a stress-free and comfortable travel experience. ExecuCar is a go-to choice for travelers seeking a higher level of service for airport transportation.
---
Conclusion
In this comprehensive guide, we've explored the world of Black Car Services, uncovering their luxury, reliability, and comfort. From the unmatched comfort of premium vehicles to the professionalism and safety measures undertaken by reputable providers, Black Car Services offer an elevated travel experience.
Whether you're heading to an important business meeting, celebrating a special occasion, or simply seeking a stress-free ride, these services deliver on every front. So, the next time you need transportation that goes above and beyond, consider the convenience and value of Black Car Services to enhance your journey. Your comfort, safety, and peace of mind await.